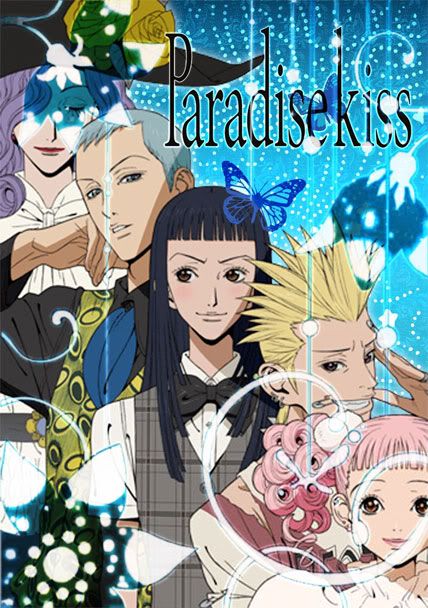 Paradise Kiss (パラダイス・キス Paradaisu Kisu?), abbreviated to "ParaKiss",[1] is a mangaseries written and illustrated by Ai Yazawa. It appeared as a serial in the Japanese manga magazine Zipper. Shodensha collected the chapters into five volumes. The series has also been adapted into a 12 episode anime series, produced by Aniplex and Studio Madhouse, and which was aired in Japan on Fuji TV's Noitamina programming block and on the anime television network, Animax, who have broadcast the series across its respective networks worldwide, including Japan, Southeast Asia and East Asia.
This comic is widely read not only in Japan, but in many countries around the world. The Paradise Kiss manga has been translated from Japanese to at least ten different languages, Vietnamese, Chinese (Taiwan and Hong Kong), Korean, French, Italian, Polish, Thai, German, Spanish, Portuguese and English. The English version is published by Tokyopop.

Paradise Kiss is the sequel to her previous work, Gokinjo Monogatari, which has not yet been published in English. However, Paradise Kiss is a stand-alone sequel because only three of the supporting characters are featured, and only as small children. Some of the main characters from Gokinjo Monogatari also make appearances throughout Paradise Kiss.
_____________________________________________
MANGA
Written by Ai Yazawa, the chapters of Paradise Kiss appeared as a serial in the Japanese fashion magazine Zipper from 1999 to 2003.[2]
Tokyopop licensed Paradise Kiss for an English-language release in North America and serialized it in its manga magazine Smile.[1]Tokyopop published the series from May 21, 2002 to March 9, 2004.[3] Madman Entertainment distributes the series in Australia and New Zealand.[4] The series is also licensed in France by Kana[5], in Poland by Waneko[6] and in Russia by Comics Factory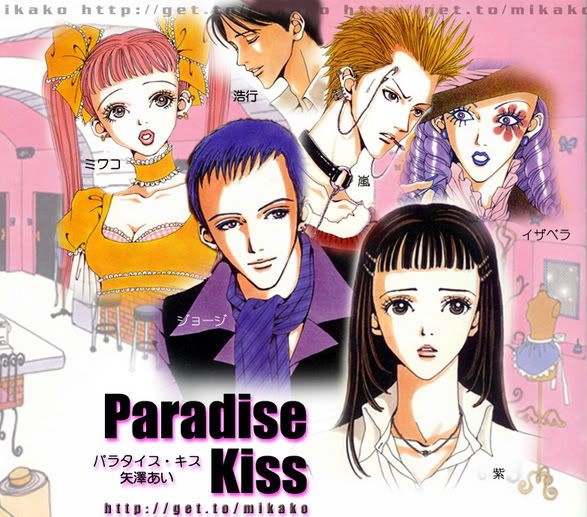 __________________________________________
ANIME
Produced by Madhouse Studios, the Paradise Kiss anime series began airing on October 10, 2005. Some well-known personages are staffed on the production of the Paradise Kiss series including director Osamu Kobayashi and Nobuteru Yūki, character designer and animation director for the opening sequence. It has been aired by the anime television network, Animax across its respective networks worldwide, including Japan, as well as Southeast Asia and East Asia, where the series received its first ever international broadcasts. The anime was licensed for release in North America by Geneon Entertainment. On July 3, 2008, Geneon Entertainment and Funimation Entertainment announced an agreement to distribute select titles in North America. While Geneon Entertainment will still retain the license, Funimation Entertainment will assume exclusive rights to the manufacturing, marketing, sales and distribution of select titles. Paradise Kiss was one of several titles involved in the deal
__________________________________
LIVE-ACTION FILM
Together with the Japanese production company IMJ, Fox International produced a live-action, Japanese-language film based on Paradise Kiss; The film has an estimated budget of US$3–4 million.[2]
The Paradise Kiss live-action features Keiko Kitagawa as Yukari Hayasaka and Osamu Mukai as George. Other cast members are Natsuki Katō as Kaori Aso, Aya Ōmasa as Miwako Sakurada, Kento Kaku as Arashi Nagase, Shunji Igarashi as Isabella Yamamoto, and Yūsuke Yamamoto as Tokumori Hiroyuki.[9]
The film is due for release in Japan in June 2011.